Meniere's disease,  Cervical Spine and TMJ

– How are they connected?
Table of Contents
Misalignment in the cervical spine, neck and jaw (TMJ) have all been linked to the symptoms of Meniere's disease.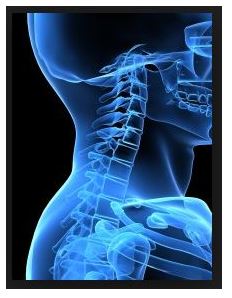 Many people who have had chiropractic readjustments and manipulation of the cervical spine have freed themselves of Meniere's symptoms, notably C1 through C6.
The most commonly found misalignment in the neck is C1 in sufferers of vertigo, which it has slipped out of place. This is usually due to trauma of some kid such as whiplash or sudden jerk like movement.
This can go years without being detected, and years before causing disturbances with equilibrium and the ear.
Treatment for TMJ/TMD has also been successful in stopping Meniere's disease symptoms in some people. Such testimonials are common in emails to Meniere's Help. Neither cause is recognized by ENTs and GPs in general but the numbers speak for themselves. When researched, the science also backs this up.
This message was posted in a Meniere's group on Facebook recently (May 2017) regarding TMJ and Meniere's:
"Hey y'all, just a treatment update. I've been in treatment for TMJD with Dr. Foskin and Adelina in Oklahoma City since November 2016 and I've been symptom free since December 2016. I just had a check up this week and it looks like my jaw is stabilizing!
Please, please, please get an assessment to rule out TMJD!!! I would have never thought I had it, but I did! An amazing thing about this last visit, when I was first assessed, I had a tremendous amount of neck and shoulder pain. I had Dr Foskin do the same assessment and the pain is gone! I also used to have a lot of headaches and they are gone too! If you are having random neck and shoulder pain, this is a telltale sign of TMJD.  Good luck to you all in your journey to health!"
Video: Meniere's disease – TMJ and the Spine
Have you had your neck, back and jaw checked for irregularities?
You can read more information on links to Meniere's symptoms and the neck and spine on this page: Chiropractics for Meniere's disease
On the page linked to above you will read in one section about the work of Doctor Michael Burcon and his peer reviewed paper in 2010 after performing a study on 139 patients. In March 2017 a press release was published and circulated on social media with the headlines "
Video: Dizziness and TMJ Is There a Neck Connection?
"After 155 Years, the Cause of Meniere's Disease has Finally Been Discovered?"
The headline is rather misleading in that yes, although neck and spinal issues are very significant in a many Meniere's cases, it cannot be claimed to be "THE" definitive cause, just as nothing else can be claimed to be the outright definitive cause.
The reasons for this are simple, there are several possible causes and possibly more than one cause in each individual case. This is discussed at great length, how to find your own particular cause(s) and how to eliminate them from your life (therefore eliminating Meniere's from your life) in the book, The Need for Balance – Dealing with the Causes of Menieres.
The significance of this press release is that Doctor Burcon's work has now extended to 300 patients over 6 years.
"Six years of treatment on 300 patients demonstrated a 97% improvement in the intensity and duration of vertigo attacks," Journal of Upper Cervical Chiropractic Research.
The paper was actually released in 2016 and is discussed in The Need for Balance. Dr Burcon explained: "Seven hundred and twenty one consecutive patients diagnosed with Meniere's disease have entered my clinic, most denying a history of a head/neck injury," .
In the press release, The Journal went on to state: "Most patients are diagnosed with Meniere's in middle age. That's because they were injured in high school or college, when they were learning to drive, playing sports or attempting to do something they came to regret. Luckily, it's not too late to benefit dramatically from upper cervical specific care. These doctors take post graduate training to get certified in their technique. They spend more time testing to create an adjustment, based on x-ray analysis, tailor-made for the patient. This translates to faster, safer results, especially with patients with one-sided neurologic disorders like Meniere's disease or Trigeminal neuralgia."
Having communicated with Dr Burcon on several occasions I cannot imagine he was responsible for the sensational headline. But that said, his work is significant and should not be ignored or ridiculed as it is by some who have alternative (and potentially lucrative) treatments.
Dr Burcon says: "The reason it took so long to discover the cause of Meniere's disease is simple, it takes an average of 15 years from the time of the trauma, a whiplash/concussion injury caused by a vehicular accident or significant blow to the head, before the onset of symptoms."
Ligaments are damaged allowing an upper cervical subluxation complex to slowly develop over time. Additionally, the brain slips lower into the foramen magnum, slowing the flow of cerebrospinal fluid out of the skull, creating normal pressure hydrocephalus. Since the skull acts as a closed hydraulic system, less blood flows into the head. This syndrome is often missed on supine MRIs. These films should be taken upright, seated or standing, and should include the upper cervical spine in addition to the head.
So is Meniere's disease – Cervical Spine and TMJ relevant?
Yes, absolutely.
Whether it be the neck, the spine, the jaw or teeth, Musculoskeletal imbalances are an important possibility that you should get checked for and corrected if need be.
If you found this article useful Click here to support Meniere's Help paypal.me/menieres
Related articles:
By Mike Spencer
Founder of Menieres Help -Supporting sufferers since 2004
Researcher and author of Managing Meniere's Disease and  The Need for Balance – Dealing with the Causes of Meniere's 
Help other Meniere's sufferers. Do have experience with Meniere's, the spine, neck or jaw? Tell us all about it in the comments boxes below or email Mike at meniereshelp@gmail.com
Further reading: