Table of Contents
Metabolism and Meniere's disease – How is it related?
This is the third article in a series related to the endocrine system and Meniere's Disease.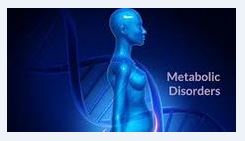 The hormones responsible for regulating metabolism are mainly produced by the pancreas and thyroid gland. These glands are part of the endocrine system.
Both thyroid dysfunction and endocrine disorders have been linked to Meniere's disease, so too has metabolic disorder. Metabolic disorders can stem from the endocrine system and the thyroid being out of sync.
Metabolism is the process your body uses to get or make energy from the food you eat. Food is made up of proteins, carbohydrates, and fats. Natural chemicals in your digestive system break the food down into sugars and acids, your body's fuel. Your body either uses this fuel straight away, or it stores the energy in your body tissues, such as your liver, muscles, and body fat.
A metabolic disorder occurs when abnormal chemical reactions in your body disrupt this process. When this happens, you might have too much of some substances or too little of others that you need to stay healthy. This can happen when the thyroid, adrenal glands or other organs and glands in the endocrine system are out of sync and sending out the wrong hormonal signals. Estrogen mimickers that make their way into our bodies mainly through toxins in foods and water are prime examples of endocrine disruptors that create abnormal chemical reactions.
There are numerous studies and medical papers suggesting that metabolic abnormalities may be a contributing causative factor in Meniere's.

Metabolism and Meniere's: Studies
In a study of Meniere's patients at the Department of Otolaryngology and Communicative Disorders of the Cleveland Clinic Foundation in 1976,
it was found that there were Carbohydrate abnormalities in some and a significant number of patients were found to have lipid abnormalities. It was suggested that dietary management in these cases was believed to be helpful in the medical management of the patients .
Cambridge University Press published a paper in 'The Journal of Laryngology & Otology' in 1979 titled 'Metabolic Investigations in Meniere's Disease'.
It stated that both hyper and hypoglycaemia have been said to result in inner ear dysfunction. It was pointed out that diabetes can result in both progressive sensorineural hearing loss and Meniere's Syndrome.

The authors referenced studies that found 42% of a series of 19 Meniere's patients were suffering with reactive hypoglycaemia when tested. In this particular test it was suggested that insulin sensitivity, possibly a result of adrenal insufficiency could account for the hypoglycaemia.

It stated that hearing loss can be related to hypothyroidism, Finally it was noted that hearing loss and vertigo may be among the first signs of myxoedema (typical of patients with under active thyroid glands) and are "reversible with treatment."
Tell that to the doctor 'treating' your Meniere's, the next time you are told there is nothing more to be done and learn to live with it. Although we do not see dietary changes and supplementation as either a treatment nor a cure, the testimonials of multiple thousands who have greatly reduced or eliminated their symptoms this way suggests the body can balance itself out when given the correct fuel.
It is all about bringing balance to your body systems from micro DNA level to macro muscular skeletal level, through cellular nutrition to cervical spine realignments for example. When everything is in sync, disease states are starved and the immune system is functioning enough to deal with any inflammation, preventing dysfunctions, disorders and disease. Some might call this 'preventative medicine', I call it good old fashioned common sense.
A study presentation at a Symposium at the 75th Annual Meeting of the American Laryngological, Rhlnological and Otological Society in 1972 stated the following:
Metabolic dysfunction is one of many factors mentioned as a primary or contributing cause of Ménière's disease.

The symptoms of Ménière's disease often become manifest during periods of stress. The adrenal pituitary axis plays a vital role in man's reaction to stress. For this reason, hypoadrenal function was suggested as an etiology in some patients with Ménière's disease.
In this study two tests were used to measure adreno-cortical reserve: ACTH plasma cortisol stimulation test and insulin stimulation test.

After evaluation of 98 patients with Ménière's disease, we concluded the following:

1. The five-hour glucose tolerance test is helpful in identifying hypoglycemia, which may be a contributing factor in Ménière's disease.

2. Non-myxedematous hypothyroidism may play an important role in some patients with Ménière's disease.
3. Further endocrine studies will be necessary to determine the significance of the lowered adrenocortical reserve as shown by the ACTH plasma cortisol stimulation test.
We have long preached the importance of blood flow at Meniere's Help and know how managing this through either diet and supplementation and/or spinal manipulation (where necessary) can make a huge difference. The study below backs up the importance of blood flow:
Published in Sage Journals the study 'Metabolic Management in Menière's Disease' stated the following:
Extract: Pollution in the bloodstream by abnormal amounts of metabolites (sugar, insulin, triglycerides and cholesterol) over an extended period of time will have an adverse effect upon the small blood vessels.

If the microcirculation of the inner ear becomes afflicted, it may produce endolymphatic hydrops. Control of blood pollution can usually be achieved by intelligent dietary management.

Fifty consecutive cases of Menière's disease were studied for abnormal levels of metabolites. Thirty-eight (76 %) of these cases had either an abnormal glucose tolerance test or at least borderline insulin levels: a) abnormal insulin levels, 35 cases; b) borderline insulin values, 3 cases; c) abnormal glucose tolerance with normal insulin values, no cases; d) both normal glucose tolerance and normal insulin production, 12 cases.
The number of studies and papers on this subject are numerous but how do you get metabolic disorders? As discussed in the articles on Thyroid dysfunctions and endocrine disorders at length, there are many toxic chemicals and pollutants found in the environment, water supplies and in foods that can accumulate in the body over a long period of time that can cause these problems.
For a healthy metabolism consider the following:
Use chili peppers in cooking, eat berries, eat more protein and less carbohydrates.
Keep active, build muscle
Drink teas and cold water
Keep your thyroid healthy
Restful sleep is important
Consider a body cleanse
Get enough Vitamin D
Take omega-3 fatty acid supplements
Take anthocyanin supplements
Is Metabolism
relevant
in Meniere's disease?
Judging from the evidence above, it would seem so. This article should be read in addition to articles on this blog Meniere's disease and Thyroid dysfunction and Endocrine disorders and Meniere's disease
Metabolism, the thyroid and endocrine systems are related to each other, and all three can be relevant in at least some Meniere's sufferers.
If you find this site useful Click here to support Meniere's Help paypal.me/menieres
Related articles:
By Mike Spencer
Founder of Menieres-Help.Com – Supporting sufferers since 2004
Researcher and Author of Managing Meniere's Disease and The Need for Balance – Dealing with the Causes of Meniere's
Help other Meniere's Sufferers. Tell us all about your experiences with Meniere's and Metabolism. Use the comments box below or email Mike at meniereshelp@gmail.com
References/Further reading:
Autoimmunity as a candidate for the etiopathogenesis of Meniere's disease: detection of autoimmune reactions and diagnostic biomarker candidate
Menière's Disease and Disorders of the Carbohydrate Metabolism Involving the Inner Ear