By Mike Spencer
Founder of Menieres-Help.Com
Researcher & Author of Managing Meniere's Disease – How to Live Symptom Free and The Need for Balance – Dealing with the Causes of Meniere's
Massive increase in Meniere's Disease in Fukushima – Why it matters to YOU
According to a report published in April 2015 by Soma General Hospital and Tohoku University, there was up to a 600% increase in cases of Meniere's Disease in and around Fukushima, Japan since the nuclear disaster in 2011.
Exposure to radiation causes thyroid gland and bone marrow issues, and therefore a weakened immune system. In addition to this radiation affects the pituitary gland. The pituitary gland is a very important part of the endocrine system and therefore the thyroid. This must be of particular significance to the pathology of Meniere's in many sufferers around the world.
Why?
Evidence that Meniere's symptoms can result from thyroid and endocrine dysfunctions?
Studies show that at least 34% of Meniere's sufferers show signs of Thyroid dysfunction and with the success of dietary improvements and supplementation in reducing or eliminating Meniere's symptoms by strengthening the immune system, the report from Japan underscores the message Meniere's Help has been stating for over 12 years. Focusing on the importance of supporting the immune system.  Both the immune system and the endocrine system are two vital aspects to human health. Imbalances and disorders can possibly lead to Meniere's symptoms manifesting.
Similar studies in Chernobyl, following the nuclear disaster there found some equally staggering statistics.
Read why this is a big deal and why it matters to you the sufferer here.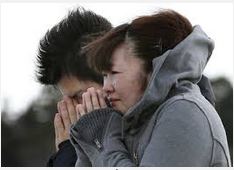 A summary of the report:
Soma City is 44 km north of Fukushima Daiichi… almost all patients who require hospitalization for ear, nose, and throat (ENT) care were referred to our department… We thus investigated the influence of the disaster on internal ear diseases.
Regarding the evacuation area, the total number of patients [in the ENT department] increased 4.64 times [364% in 1st year], 4.24 times [324% in 2nd year], and 4.54 times [354% in 3rd year] compared with the number before the disaster.
New patients [with vertigo, Meniere's disease, and acute low-tone sensorineural hearing loss] in Shinchi Town… increased by 64.3%, 114.3%, and 46.4% [in years 1, 2, and 3] respectively… In the case of Minami-Soma City, except the evacuation area… increased by 84.2%, 152.6%, and 142.1%, respectively… Regarding the evacuation area… the numbers of patients with vertigo, MD, or ALHL became 7 times [600% increase in 1st year], 5 times [400% increase in 2nd year], and 7 times [600% increase in 3rd year].
Although the causes for MD and ALHL are still unknown [the rise] might be due to increased tension and stress… As for the cases [of vertigo] we were unable to establish the neuro-otologic pathogeneses in… 72%  [and] there may have been cases of psychogenic dizziness… administration of an anti-vertigenous drug or advice to keep calm and to have a sound mind did not help… There were some difficult cases where ENT treatment alone did not work, presumably because these cases were complicated with some mental diseases… In some serious cases, we… referred the patients to psychiatric care or prescribed psychosomatic medicine. Some patients refused our advice… or to admit that they had a mental problem.
The number of reported cases of heart disease and brain infarction have increased in the devastated area… Diabetes, osteoporosis, and psychiatric illnesses were feared to have worsened… There is a great concern that there will be additional health hazards, and we strongly feel the need for administrative support.

The most puzzling thing for me is that the ENT doctors in Japan suggest the massive increase "might" be due to stress!!  They also suggested the increase in Meniere's in some case might be due to "mental diseases". This is stone age medical opinion in my view.
It is true that stress is a trigger and true that stress is considered by some in Japan as an underlying root cause but the total lack of understanding or knowledge of the clinically proven links of thyroid dysfunction to the onset of Meniere's and the connections between the immune system and thyroid I find staggering.
The suggestions of "mental disease" also stinks of the old assumption that "it's all in your head" by some, and seems almost from the stone age. The significance of this report seems to have been lost on the very people that could make all the difference in official understanding and acceptance of what are clinically known links to Meniere's in a sizable percentage of sufferers.
As a side note, the microwave radiation from cell phones has been shown to affect the central nervous system and endocrine system as well as creating oxidative stress; all relative to Meniere's disease. So excessive use of cell phones and carrying them in pockets next to the body may be unwise.
Click here to read Managing Meniere's Disease – How to Live Symptom Free
Click here to read The Need for Balance – Dealing with the Causes of Meniere's
Help other Meniere's Sufferers. What are you experiences with Meniere's and Thyroid. Leave your comments below or email Mike at: meniereshelp@gmail.com