Table of Contents
Mold and mycotoxins may be among the least spoken about serious threats to our health. The possible connections between mold and Meniere's is not among the most commonly spoken about subjects when considering triggers and causes either.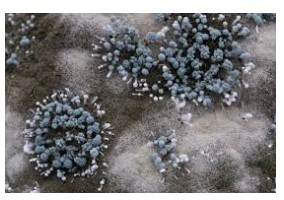 Yet the possible connections have been known for many years. It is important to understand there can be many possible root causes and what is relevant to one Meniere's sufferer may have little to no relevance in another.
According to Dr Mercola, "From a toxicity point of view, some mycotoxins (toxic substances produced by mold) are actually far more toxic than heavy metals, in terms of concentration. Mycotoxins also tend to affect more biological systems in your body than do pesticides or heavy metals, partly because fungi have the ability to dodge your immune system by rapidly mutating, while at the same time producing chemicals that suppress your immune system."
He also says, "If your immune system is stressed in any way, or if you are extremely sensitive and have allergy-like reactions to a variety of agents then you may be even MORE sensitive to mold than the average person and have chronic symptoms directly related to mold in your environment. But even if you are generally healthy, mold can still pose a significant risk if you are caught off-guard."
You need a healthy immune system to avoid Meniere's symptoms, that's a fact. We have seen for over a decade and a half that supporting your immune system with high quality supplements and a good diet has helped many people reduce their symptoms significantly regardless of their root cause.
However if your Meniere's symptoms are a result of toxic molds, it may take specific nutrients in high enough levels to detox it from your body.
Molds have been associated with health problems that in themselves have been linked to Meniere's such as sinus problems and autoimmune disease. Diagnostic tests for mold toxicity are very specific and one of those is a hearing test.
Toxic mold exposure has also been linked to neurological damage causing memory loss, insomnia, anxiety, depression, trouble concentrating, confusion. headaches, fatigue, nasal irritation and nausea.
Mold has also been linked to, dizziness, vertigo, tinnitus, ear infections, hearing loss, autoimmune inner ear disease and Meniere's disease itself.
Video: Meniere's disease – Airborne allergies and Mold
In a study published in the journal Nature, 'Proinflammatory cytokines and response to molds in mononuclear cells of patients with Meniere disease' it was concluded that "Aspergillus and Penicillium trigger the release of TNF-? in MD patients and this could initiate or exacerbate the inflammatory response in the inner ear."
Aspergillus and Penicillium are types of mold. There are hundreds of types of aspergillus molds and mildews that can be inhaled.
Penicillium is a fungus that grows on spoiled foods and can be ingested.
Video: Meniere's, Tinnitus, Ringing of the Ears driven by Mold?
Solutions to toxic mold and Meniere's
I personally suffered for 7 years with Meniere's symptoms [ I bo longer suffer from the symptoms of Meniere's disease ]. During the absolute worst period of suffering I searched for mold in my house. It was the rainy season in Japan where I lived and at that time of year the moisture is incredible.
I found a huge patch of mold behind a set of drawers very near where my head would be while I slept. I immediately set about cleaning the mold and as a result very quickly brought on a violent vertigo attack.
It would be advisable to get a professional in to clear the mold because it may be all over your home without you knowing. If a professional is out of the question, then at least get someone else to clean it for you.
According to American mold expert Dr. Jack Thrasher, as many as 40 percent of American schools and 25 percent of homes have mold infestations, unbeknownst to the people occupying those buildings.
He says, "It follows that adverse health effects of mold may be reaching pandemic levels."
Regarding humidity and mold Dr. Thrasher says,  anything above 60 percent is going to lead to growth of mold and bacteria… People have to be very careful about this situation. That's why I call it a pandemic"
If your home is prone to mold it would be advisable to (after clearing the mold) use an air purifier during the damp periods and make sure your house is well aired naturally in dryer periods.
Glutathione 
Glutathione is a powerful antioxidant produced in cells. Research suggests that mycotoxins in mold can decrease the formation of glutathione due to decreased gene expression of the enzymes needed to form glutathione.
Mycotoxin-related compromise of glutathione production can result in an excess of oxidative stress that leads to tissue damage and systemic illness.
Glutathione  is needed to detox mold from your body. Your liver is your body's main detox organ. This is where glutathione plays a major role in detoxifying your mold mycotoxins.
When there is not enough glutathione to eliminate the toxins they start to stack up in the liver and cause mitochondrial damage – your cells' energy powerhouse – affecting glutathione production.
Glutathione has been shown to improve protein, enzyme, and bilirubin levels in the blood of individuals with alcoholic and nonalcoholic chronic fatty liver disease. A study reported that glutathione was most effective when given to people with fatty liver disease intravenously, in high doses.
Glutathione can be found in foods such as: asparagus, avocado, cabbage, Brussels sprouts, spinach, broccoli, garlic, chives, tomatoes, cucumber, almonds, and walnuts.
However, dietary glutathione is poorly absorbed by the human body. Additionally, cooking and storage conditions can decrease the amount found in food. So if you have been exposed to mold mycotoxins it is worth supplementing pro-glutathione nutrients.
Milk thistle, N-acetyl cysteine and superoxide dismutase supplements can activate glutathione production naturally.
If you found this article useful Click here to support Meniere's Help paypal.me/menieres
Related articles:
By Mike Spencer
Founder of Meniere's Help. Researcher and author of Managing Meniere's Disease and The Need for Balance – Dealing with the Causes of Meniere's
Do you have experience with toxic mold and the symptoms of Meniere's ?
Help other sufferers. Tell us all about it in the comments box below or email Mike at meniereshelp@gmail.com
References/Further reading: Deficient Glutathione in the Pathophysiology of Mycotoxin-Related Illness