Lachlan Cameron from Wangaratta is running a 1500km ultra-marathon to raise Meniere's awareness.
We found this article in the Herald Sun Adelaide.  We wish Lachlan all the best……you can follow his run on his facebook page and give him a like by clicking on his link at the bottom of the page.

"But, fuelled by his love for his nan, nothing can break the stride of Wangaratta teenager Lachlan Cameron.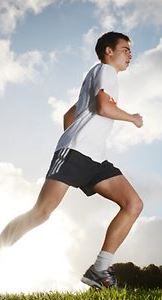 Lachlan, 18, flew out this week to embark on a solo 100-day run along the Rhine River in Europe, travelling with nothing but a rucksack and the clothes on his back, to raise awareness for Meniere's disease.
The inner ear condition affects hearing and balance, causing unpredictable attacks of vertigo that last up to 24 hours.
Lachlan saw the disorder shatter his grandmother's independence and decided to try to make a difference.
"She's a really big part of my life and it's so sad to see her crippled," he said.
In between VCE studies, footy training and mentoring younger students, the quiet achiever planned his journey.
The normally shy teen stepped out of his comfort zone and started promoting his cause last year, and so far has raised $5000. He hopes to reach $50,000.
"I'm definitely nervous but also excited," he said.
"It will certainly be a challenge."
He is already planning another fundraiser for Meniere's disease awareness by running the circumference of Tasmania.
Catherine Tinson, 82, who nominated Lachlan for a Pride of Australia award, said she was very proud of her grandson.
"He's such a young fellow and it's taken such initiative and perseverance to get this together all by himself," Ms Tinson said.
"It's difficult for the community to realise how much he has done.
"It's a big undertaking but I'm sure he'll do it like a champ."